Hey! I've gotten everything working with the API as far as fetching data, but I'm running into an issue with getting data that's nested inside that data.
The Coda API will allow me to pull in a table, separated by rows. Ultimately, my goal is to have each row on its own page, with the cell data from that row populating the fields on that page.
The actual cell data, though, is inside an object ('values') that's nested inside the object for each row. The row data itself pulls in the rows nested under the object 'items':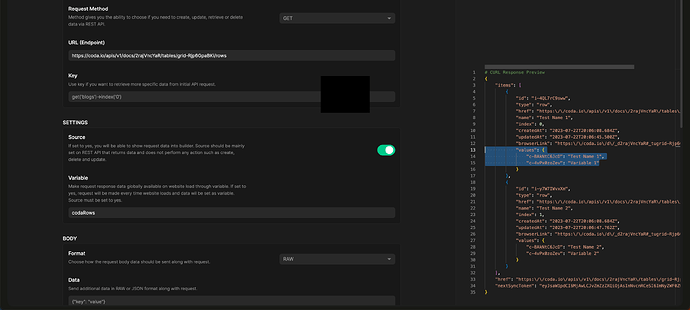 Using get('items') in the Key field of the API, I'm able to pull in just the array of rows.
On the index-type page, I can populate the data just fine:

But when I try to do it for the individual pages, it always shows the 'values' data for the first row. I've checked, and the slug is updating appropriately (i.e. the slug for "Test Name 2" is the right one for that page), but the data on the page itself is still the data from "Test Name 1".

I selected my Coda data as the source on a page level for the single-row page, but I can't do an iterable because I'm not trying to show all of the data (just the data for that page), and I'm not sure how else to drill down into the nested object.
Is there another way to access the nested object for each of the original objects, either with another API key or with a function in the builder? Thanks in advance!