Hello, how to make 404 page?
We don't have 404 page still. Will let you know once that's implemented.
Hello @dejan,
Firstly, I'd like to express my gratitude for your efforts. Using Divhunt is truly a delightful experience.
I understand that the 404 page is not yet in place. However, I was wondering if you have an estimated time of arrival for when this feature will be available. For me this is a quick win that will also benefits your main website from a SEO perspective.
Thank you in advance for your response.

Any update on this? This is a SEO requirement on my side. Thanks!

@petrbilek @mxcrml @Rajat_Subhra
This feature is online now, right click on page > Set it as not found page, then publish your website and it should work for your visitors.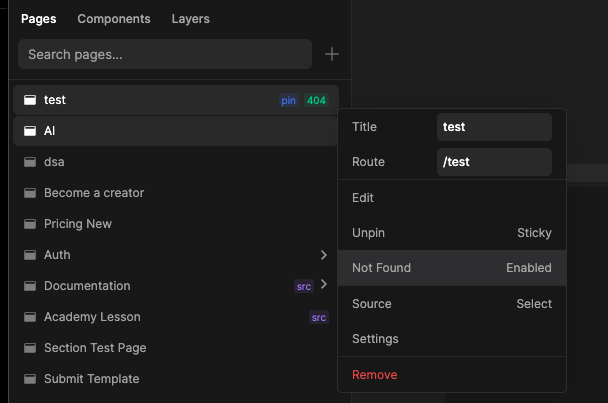 This is cool. Finally updated

I have done enabled. It works. Thanks @dejan
@ric From tomorrow you'll see change-logs/updates inside your builder, so every new thing we do, you'll see it there
Amazing, thanks. Nice update
How or when do I need to use this 404 page?
I understand that is "page not found" right?
Why is it important to SEO?
@dejan

This is perfect, thank you so much !
Yes, you are correct. A 404 page is commonly referred to as a "page not found" error page. Having a customized 404 page is important for SEO because it helps :
Improve the user experience on your website : When a user encounters a 404 error, they might feel frustrated and leave your site. However, with a well-designed 404 page, you can provide helpful information, navigation links, or even suggest relevant content.
This can encourage users to stay on your website and continue browsing, reducing the bounce rate and improving overall user engagement – and SEO.
Hope this helps.
Now I get it
It is very important yes
Thanks a lot for your reply

Where in the builder can we find the change logs/updates?